How We Started
Established in 2012, Satu Naga Marketing Sdn. Bhd is Your Aluminium Service Provider from Machining to Extrusion and Fabrication items. We are dedicated to provide our clients with great value products and services from the highest quality! We will value the needs based on their existing drawing and ensure it is within their budget besides we match it with our expertise, experience and access to the most cutting edge technology and innovations around.
Additionally, we have been working with a lot of big companies that mainly involved in supplying to construction industry and work together in a line to deliver premium quality over the usage of advanced technology.
Our works involves the variety of innovation include aluminium industrial mould design, aluminium machining, aluminium customized work, aluminium solar panel profile, aluminium curtain and blind profile, aluminium mesh door and more!
Vision
Creating innovative and competitiveness
Mission
To constantly provide solutions through expertise
Our Strength
The Design Stage
The first step in our customization process is to visualize, design and create the required product shape.
The Die Creation Stage
The design plan takes shape when the extrusion engineer creates the die to the exact size required.
The Extrusion Initiation Stage
The extrusion process begins once the die is created and produced and the alloy is decided upon.
From Design to Delivery
We got you cover! We Design, Extrude and Deliver. Our aluminium extrusion process ensure efficiency and reliable services to support our customers' growing demand.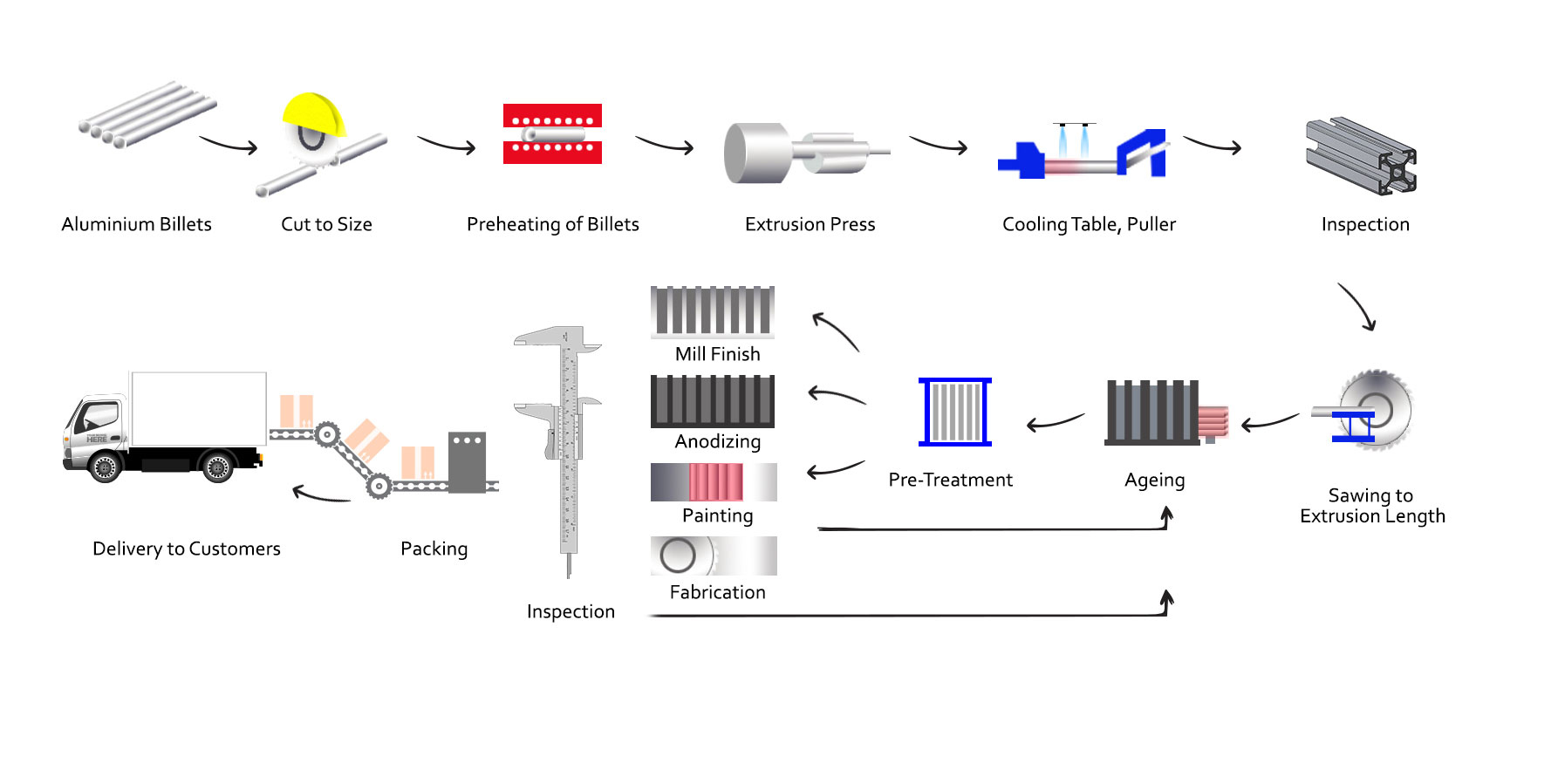 Why Us?
Better Service
We believe in providing prompt and efficient service on our products and solutions to our customers.
Prototype Samples
We specialize in product design and development and provide solution to our customer by providing wire cut samples and applications prototype. Our customers can have the actual touch-and-feel of the aluminium profiles and applications tests before confirming the finalized die and tool fabrication.
Improve Existing Applications
We provide flexibility for our customers to modify their existing die designs or improve their existing applications.